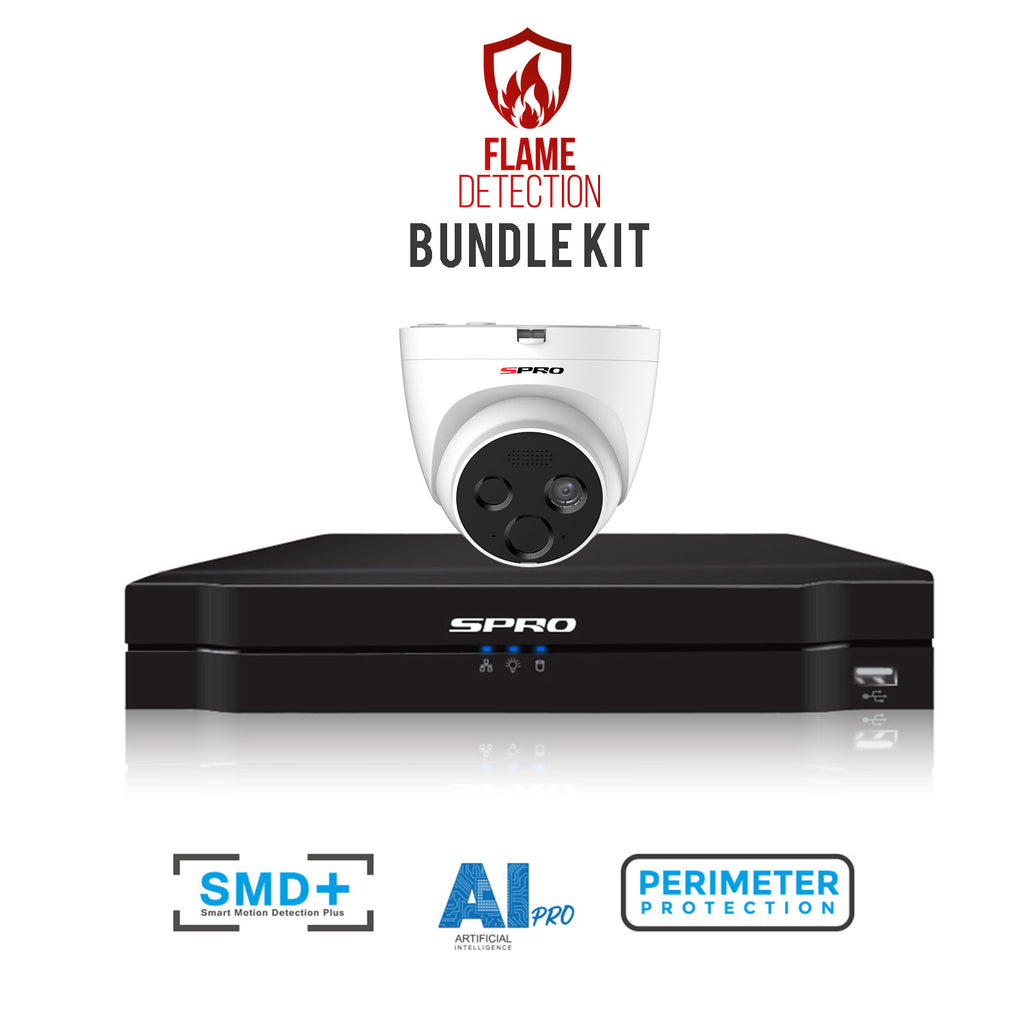 Roll over image to zoom in
Fire Detection Camera Bundle Kit - 4 Channel DHIPNVR04-A6 + DHIPFD20/15R-T12L4
SKU:
FlameDetectionBundleKit-04
Model No.: FlameDetectionBundleKit-04
4 Channel DHIPNVR04-A6 + DHIPFD20/15R-T12L4
Meet SPRO's Fire Detection Cameras, a crucial part of any CCTV system.
Alerting you from the first fire, they enable swift action and crisis prevention.
From car batteries to smoking areas, these cameras monitor all fire hazards.
Unlike conventional thermal cameras, SPRO Fire Detection Cameras do not provide basic "Colour Gradient" images. Instead, they function as standard surveillance cameras until they detect a fire, making them an essential component of any CCTV system, not a niche.
These cameras integrate seamlessly into existing intruder and fire systems, offering early detection and a robust safety network. With a coverage radius of 10 metres by 10 metres, these cameras can supervise extensive areas, from EV charging points to busy school kitchens. Furthermore, their compatibility with both intruder and fire alarm systems enhances the security perimeter around properties.
SPRO Fire Detection Cameras play a crucial role in shifting from reactive fire safety to proactive prevention. These sophisticated devices, equipped with advanced visual capabilities, blend CCTV surveillance and fire detection, encouraging property managers to address fire hazards proactively before they develop into full-scale emergencies.
The Fire Detection Bundle 4 channel Kit comes with:
Fire Detection Camera - DHIPFDD20/15R-T12L4

KEY FEATURES:
2 Megapixel CMOS

4mm visible focal length

1.2mm thermal focal length

Up to 15m IR distance

Fire detection with adjustable sensitivity 

Fire detection distance 10m x 10m

Alarm siren

Tracking fire position

Alarm: 1 in & 1 out

Two-way-Audio

IP66 waterproof

DC 12V/POE
View or Download product specifications
SPRO 4 Channel A6 8 Megapixel IP NVR with AI PRO Technology - DHIPNVR04-A6
KEY FEATURES:
H.265 codec recording

1 TB HDD ( approximately 31 day continuous recording)

Up to 8 megapixel live viewing & recording

4 channel POE built in

Up to 80Mbps incoming bandwidth

P2P (no port forwarding required

Smart motion detection

Perimeter protection

Intrusion & tripwire (human & vehicle classification)

All channels support Audio over CAT5e cable

Two-way-Audio

PTZ control over CAT5e cable (3D positioning)

Push notification

HDMI (4K) & VGA
3-AXIS GIMBAL
Turn and rotate the camera in any direction you want.
Capture the angle you need from whatever mounting position that's required.
Rotate horizontally, vertically or even spin the camera.
| | |
| --- | --- |
| | Cover a large area with the wide H: 98°, V: 67° viewing angle on the 2.8mm fixed lens cameras. Protect areas such as driveways, entrances, warehouses, large retail stores, front and back gardens. |
AI Technology 
Smart Motion Detection and Perimeter Protection Features.
SMD (Smart Motion Detection Plus) and Perimeter Protection features use an independent AI intelligent chip for reduced false alarms and surveillance costs and at the same time add practical functions empowered by the deep learning AI algorithms.

SPRO SMD boasting an accuracy of up to 90%, will filter false alarms and only report true motion events.

The advanced AI PRO also supports quick target search from recorded videos, capable of extracting and classifying human and vehicle clips from massive video data. It is easy for users to trace and analyse historical information for Human & Vehicle clips.
*Requires compatible IP Cameras with AI technology*
Security in the palm of your hand

Accessing your CCTV system remotely couldn't be easier. Simply download and install our free App and gain access to live viewing or recorded footage from anywhere where there's a network connection.*

*CCTV system must be connected to the internet

• No router configuration required for phone/PC viewing**
• No need to read a 1,000 page instruction manual to setup
• No need to pay extra for the mobile app

**Applies to most modern routers

With three quick steps!
Motion detection alert

Have your CCTV system monitor your home and workplace and contact you when there's movement. Get an image sent by email whenever a motion detected event is triggered. Monitor only specific areas for movement or anywhere within the picture.
Scheduled motion detection
In an age where image quality is important storage space plays a vital part in how much can be stored. Rather than recording a static room or view you can set your CCTV system to only record when it detects movement. You can even set your schedule to save footage up to 5 seconds before the motion is detected.
Save storage space with H.264/H.265 tech
By employing the advanced video compression technology, packet loss in transmission is drastically reduced and more storage space is saved while images remain smooth and seamless.
Dual Screen Output
This NVR comes with both VGA and HDMI outputs so that you can view on either a VGA monitor or through a HDMI monitor in full HD. You can even use both ports at the same time and view on different screens in different rooms.
UK Standards

All items here are supplied to UK standards

Components used in this NVR comply with UK standards with CE certification giving you peace of mind.
UK Company, UK Stock
UK Tech Support

Everything is in the UK. No dealing with a technical support team based on the other side of the world. No waiting weeks for your order. We're a UK business with UK support.

Orders placed before 3:00 pm will be dispatched the same day but can take up to 2 days to be delivered depending on the delivery address.
CCTV Outlet Delivery Policy:
Orders placed before 3pm will be processed on the same day to be sent out on either our standard service (2-5 Working Days) or premium service (1-2 working days).
Orders over £100 are eligible for Free Standard Delivery, orders below £100 are charged at £5.99 or £3.99 for Smoke Alarms/Detectors.
Premium Next Day Delivery services are charged at £8.99, please note that this is an attempted next day delivery and cannot be guaranteed during busy periods.
*Orders to Northern Ireland will be charged at £15 with 2-3 working day delivery
*Orders to Jersey, Guernsey & Isle of Man will be charged at £27 with 2-3 working day delivery
*Yale range can take up to 5 working days to be delivered.
*Other Regions: We offer shipping service worldwide, delivery charge / schedule can vary depending on the products you order. Please contact us for further information.
Warranty Information
We offer standard manufacturer warranty on all our products. Your statutory rights are not affected.
Unless otherwise stated, all cameras carry a minimum of 12 months warranty whilst all recorders (both DVR's and NVR's) carry a minimum of 2 years warranty.
Any warranty claims must be raised within the warranty period. Any warranty claims made outside the warranty period will be rejected.